Click on the map to begin your search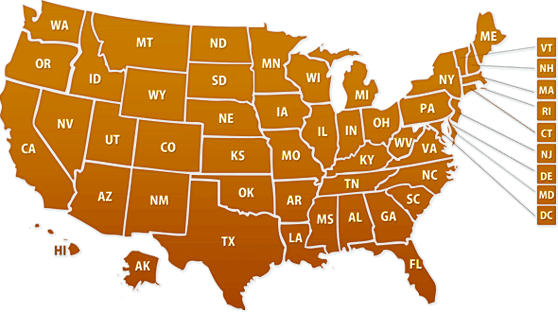 Buying Real Estate with our Foreclosure Listing Service

Whether you're looking to buy a new family home or a potential investment property, Foreclosure-Support.com is the number one way to find detailed foreclosure listings for discounts all over the country. In the past, the only way to find foreclosures was to endlessly review newspapers, pore over local records, or dig through court documents for listings. Foreclosure-Support.com has made the process of finding a foreclosure easier than ever before by organizing detailed listings for over 1.5 million properties nationwide into one easy-to-search database that anyone can use to target the home of their dreams for a great price in seconds!
Deals for Novices and Experts Alike

Our goal is to make it easy for everyone to take advantage of the foreclosure market. Instead of leaving foreclosure purchase to insiders and career real estate investors, our service aims to bring foreclosure homes to the general public, so that everyone can enjoy the great potential for savings.
Even if you've never bought a home before, Foreclosure-Support.com makes it easy not only to find a home, but to learn about how to pursue it for the best price possible. Our detailed listings provide lots information about each property we list, and we also provide lots of helpful educational information on choosing a home, bidding and buying. We'll help you find what you need fast, and we'll be with you every step of the way when you choose to buy!
Making it Simple

Finding foreclosure listings with Foreclosure-Support.com couldn't be easier. Simply use the map on our home page to click on the states or cities that you want to buy in. From there, you can narrow down your options even further with local maps. Or try using our handy zip-code search, which instantly collects and displays all the listings in a specific zip code in an easy-to-use list for you to browse.
Experts Ready to Help

As one of the most widely recognized and trusted names in the foreclosure business, Foreclosure-Support.com is the best way for anyone looking for a deal to find a property that will save them lots of money. Since our team is made up of real estate professionals with decades of experience in the real estate industry, we're able to offer a higher brand of service built on customer satisfaction. With our service, you'll discover valuable educational information, the best tools to help you find the best homes, and one-of-a-kind Customer Support that is with you every step of the way. Explore the foreclosure market with Foreclosure-Support.com and find your next home for an excellent below-market price.