Click on the map to begin your search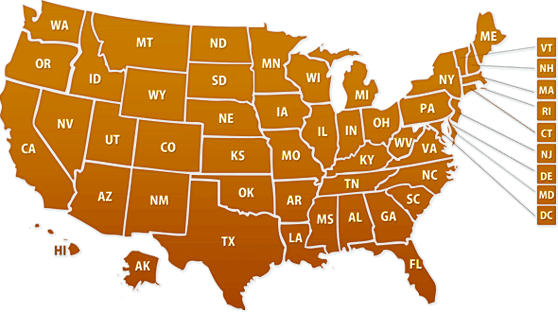 Learn More About the Terms Used in the Foreclosures Industry
If you are facing foreclosure or are working with a lender to avoid foreclosure, there are many new words and terms you may encounter. Often, these are legal or real estate terms. Foreclosure is a difficult and challenging time, and learning the vocabulary can make you feel more confident in negotiating and working towards a solution..
Retention Terms
If you want to keep your home and are negotiating with your lender to do so, you are trying to achieve something known as retention. Some of the more common terms that may be used in this situation include words such as:
Repayment plan. A repayment plan is an agreement between you and the lender which gives you more time to repay your loan. If you have fallen behind on your home loan payments and your lender agrees to a repayment plan, you will generally have to pay your full monthly mortgage amount plus a certain amount extra (to cover the arrears). Once the repayment plan is complete, you will be up to date on your mortgage again. This plan works if you can pay extra money each month to catch up on your home loan.
Loan modification. This option allows you to change the monthly mortgage amounts, your interest rate, or your mortgage term so that your mortgage is more affordable to you.
Reinstatement. A reinstatement means that you agree to pay the full amount of your past due mortgage amount by a certain date. Often, your lender will need proof of your ability to repay by a certain date. You may need to provide information about a bonus or tax return, for example, before your lender agrees that you will be able to repay the amount of your mortgage that is in arrears. In addition to paying the amount you owe, your lender may charge you additional late fees or other costs.
Forbearance. If you are in serious but temporary financial distress, a lender may agree to forbearance, which means that the lender will temporarily allow you to stop mortgage payments or will agree to have you make partial mortgage payments while you recover financially. Usually, forbearance is used in combination with a repayment plan or other solution.
Foreclosure Terms
If you are unable to stop foreclosure and you may lose your home, there are some additional terms you will want to become familiar with:
A | B | C | D | E | F | G | H | I | J | K | L | M | N | O | P | Q | R | S | T | U | V | W | X | Y | Z
ABANDONMENT

When one willingly gives up rights to a property without coercion, and has no interest in getting back those rights, or giving them to somebody else. Simply not using the property does not guarantee abandonment.

ABSTRACT

A complete accounting of a property's purchases and sales by individuals or businesses throughout the life of that property.

ABUTTER

One whose property is right next to, or joined to, another's property.

ACCELERATION CLAUSE

A provision used in mortgages, purchase agreements, and in promissory notes, in which all monies due from the debtor can be payable immediately, rather than at the end of the pre-agreed term. For this provision to go into effect, a recognized occurrence must pass which might include the sale of the property, a default on the regular payment, or the assignment of property rights to another individual. In most cases, the lender has the right to exercise this clause only after giving reasonable notice and an opportunity for the debtor to reverse the occurrence. If the acceleration clause is not specified in the original agreement, then it cannot be exercised.

ACCEPTANCE

A written agreement by the seller, or any party receiving an offer, to abide by the offer. Until the acceptance is made in writing, the buyer can revoke that offer.

ACCESSION

The gain of additional value of a property due to fixtures left behind by the previous owner, or the increase in size of a property due to accretion.

ACCRETION

A growth in land area due to natural causes. This most often happens when a property is beside a lake or river and waterborne deposits enlarge the property. In such cases, the owner of the original property takes ownership of the additional land automatically.

ACCRUED DEPRECIATION

The loss in property value that has developed over time.

ACCRUED INTEREST

The amount of interest that has accumulated over time.

ACKNOWLEDGMENT

When a person declares in the presence of a notary public or other official that they are freely signing their name in the execution of a document.

ACQUISITION

Thegain of rights to a property.

ACRE

Equalto 43,560 square feet of land, which is the equivalent of 4,840 square yards;or 160 square rods; or a piece of land approximately 208.71 square feet.

ACRE FOOT OF WATER

Equivalent to 43,560 cubic feet of water, or one acre of water with a depth of one foot.

ACTIVE INSTALLATION

A permanent or ongoing Army base.

AD VALOREM TAX

A tax based on the determined value of a property or item.

ADJUSTABLE RATE MORTGAGE LOANS (ARM)

The interest rate for this form of mortgage loan is based on a pre-determined index, usually the Treasury Billrate. Because the index rate varies over time, so too will the monthly payments for the mortgage. In most cases, a cap is set on ARM loans so that the borrower will never pay more than the cap, regardless of the current index rate. A borrower should insist on a cap when negotiating an ARM mortgage.

ADJUSTMENT INTERVAL

The period of time between monthly payments when there is no change in the amount of payment. Applies to an ARM loan.

ADMINISTRATOR

The legally recognized person who authorizes the settlement of a deceased person's estate when no will is in evidence.

ADVERSE POSSESSION

The attainment of a property title that someone else lays claim to though the latter does not have clear title to that property. The possessor of property must be the one to prove rightful title. The United States government is protected from adverse possession.

AFFIDAVIT

A declaration made in writing in the company of an authorized officer or notary public.

AGREEMENT OF SALE

A document that specifies the conditions and terms agreed upon by a buyer and seller regarding a piece of real estate.

AIR RIGHTS

The rights to that space which is above the Earth in a designated area and which allows the holder of those rights to construct, make use of, or dwell within. Air rights may be broken down by elevation and distributed accordingly.

ALIENATION

When one person willingly transfers property to someone else.

ALLOCATION

The distribution of authority or funds among agencies or accounts for the reason of fulfilling the intended goals.

ALLOTMENT

When an agency head authorizes an individual or individuals to incur up to a certain amount of debt or charge as accorded by OMB regulations in Circular No. A-34.

ALLUVION

When land that is located beside a river or stream increases in size because of the natural accumulation of sediment from the passing water.

ALLUVIUM

Sediment deposited in the form of clay or sand by passing water such as a river or stream that.

ALTERNATIVE DOCUMENTATION

Documentation supplied by the intended borrower to support their loan application as opposed to documentation supplied by a third party.

AMENITIES

Assets gained by the acquisition of property that may be real or abstract and which may or may not include cash.

AMORTIZATION

The reduction or elimination of debt by making regular payments.

AMORTIZATION PERIOD

The length of time to pay off a mortgage loan. This period of time may extend beyond the loan terms.

ANGLE

The figure or space created by two diverging lines that begin at a common point, most commonly measured in degrees. There are 360 degrees in a circle.

ANIMAL UNIT (A.U.)

A measurement system based on livestock weight and is equivalent to that of a mature cow, 1,000 pounds, one mule, six goats, five swine or sheep, or one horse.

ANIMAL UNIT MONTH

A measurement system based on the amount of feed necessary to support one Animal Unit for 30 days, and is often expressed in relationship to acres.

ANNEXATION

Conjoining, grouping, or attaching something (usually land or fixtures) to something else, such as to another parcel of land or to a building.

ANNUAL PERCENTAGE RATE (APR)

A yearly rate upon which aloan's cost is based and is not necessarily equivalent to the current interestrate. Rather, the APR is determined by the amount borrowed, loan terms, andfinance charges.

APPLICATION

The declaration of financial and other necessary information for a loan application.

APPLICATION FEE

The amount of money that a lender charges a loan applicant to cover the costs of a credit report, closing fees, lock-in fee, property appraisal, and other expenses associated with processing a loan application.

APPORTIONMENT

Funds, or reserve funds, distributed by OMD according to planned periods of time.

APPRAISAL

A written declaration of value based on determined facts.

APPRAISER

A person who is professionally trained and qualified to estimate the value of property.

APPRECIATION

An increased conversion value of property or mediums of exchange due to economic or related causes which may prove to be either temporary or permanent.

APPROPRIATION

An act approved by Congress authorizing Federal agencies to spend money and pay certain bills using funds from the U.S. Treasury.

APPROPRIATIONS BILL

A Congressional bill authorizing funds to be drawn from the U.S. Treasury for government related debts and expenses.

APPURTENANCE

Real estate property or right of way that must be annexed in order to gain access to another property.

APR

See Annual Percentage Rate.

ARM

See Adjustable Rate Mortgage Loans.

ASSESSED VALUATION

A property value determination used by the government for taxation reasons.

ASSESSMENT

A government fee applied against real estate for public improvement expenses like sewers or sidewalks.

ASSETS

Items of value owned by a company or person.

ASSIGNMENT (OF TEASE)

Property rights or interest in something that is transferred by someone (the assign or) to another (the assignee).

ASSUMPTION

Assumption means that a buyer approved by the lender takes over your mortgage payments when buying your home. The mortgage is transferred to the new buyer and you do not have to make further payments.

ASSUMPTION AGREEMENT

When one takes responsibility for another's debt.

ASSUMPTION OF MORTGAGE

When one party takes responsibility for another's mortgage debt, though the original mortgagee remains equally responsible for the debt fulfillment.

ATTACHMENT

Realor personal property legally seized from a court defendant as collateral for a possible judgment against them.

ATTORNEY IN FACT

When using power of attorney, someone is authorized to represent another.

AUDIT

When real estate transactions are reviewed to determine whether they were processed correctly.

AUTHORIZATION BILL

When a Federal agency is lawfully authorized to continue running or incurring a specific debt.

AVIGATION EASEMENT

A landowner's grant of airspace to an airport above acertain height for the purpose of giving aircraft safe passage. This can include the elimination of trees over a certain height on the landowner's property or other obstructions that could otherwise conflict with an aircraft's flight path.

AZIMUTH

A horizontal arc measured between a northern point and the vertical circle that passes through the middle of an object clockwise from the northern point expressed in degrees.
BALLOON MORTGAGE

Fixed-rate loans with short terms and monthly payments and with one big payment at the end known as the balloon. This last large payment covers the rest of the principal and occurs anywhere from five to ten years after the start of the loan, depending on the terms. Many choose to refinance when the balloon payment comes due but are not guaranteed refinancing.

BALLOON PAYMENT

The last payment on a balloon mortgage. In most cases, the balloon payment is the biggest payment of all.

BANKRUPTCY

A legal ruling that releases a business or individual from their financial debt.

BASE LINE AND MERIDIAN

Surveying lines used to designate land parcels. The base line is the initialeast to west line which is at right angles to the principal median (the initial north to south line).

BASE MAP

A map used to plot land ownership based on reference points like geodetic coordinates, cities, counties, or townships.

BATTURE LAND

Property that is between a levee or riverbank and the water's edge at low tide. Similar to abutting land, but different in that batture land does not have to be sold with the primary property.

BEARING

The direction one is heading, usually measured in degrees.

BENCH MARK

A visible point of reference with an established elevation used to assist survey teams in determining elevation of other locations. Is often a post or pole anchored in concrete or other suitably stable material.

BENEFICIARY

One who inherits something from a trust or a deceased's will.

BEQUEATH

To leave personal property to another by will. To leave real property by will is to devise. To designate someone as the recipient of personal items in a will. (Leaving someone real estate property in this way is termed "devise").

BILL OF SALE

A written receipt acknowledging that property described on it has been transferred from one individual or company to another and that the new owner has all rights to that property.

BINDER

A writ in which a buyer's earnest money is accepted in advance of the completion of the real estate purchase.

BLANKET MORTGAGE

In which two or more real estate properties are covered under the same lending agreement.

BONA FIDE

Sincere promise to carry something out.

BOND

An obligation in writing often secured with a deed of trust or mortgage.

BORROW PIT

Where material has been excavated and taken to another location asfill.

BREACH OF CONTRACT

When contractual obligations have not been fulfilled or actions are taken contrary to those allowed within the contract.

BROKER

One who negotiates contracts on behalf of their clients after bringing their client and a buyer or seller together.

BUDGET AUTHORITY

The right to spend Federal funds by borrowing money, entering into contracts, or appropriating funds.

BUNDLE OF RIGHTS

All of the real estate rights purchased from a seller including the right to use, exclude, enjoy, sell, or lease, unless specifically excluded in the sale.

BUY-DOWN MORTGAGE

A time-limited mortgage offered for less than the market rate.

BUYER'S MARKET

A market which is better for buyers than sellers, and usually occurs when supply exceeds demand.
CADASTRAL

The mapping and surveying of land, or the land's worth, size, and ownership made available to the public.

CALL OPTION

The right for a lender to demand full payment of a loan when the terms include this option. It usually goes into effect when the loan goes into default or the lender deems it prudent.

CAPITALIZATION

When potential profits and income are taken into account while appraising a property's value.

CAPITALIZATION RATE

The difference between an investment's worth and income generated from the investment after costs are deducted. Often referred to as "return of" and "return on" capital.

CAPS (INTEREST)

Limits placed on interest rates charged for adjustable rate mortgages during the loan's term or adjustment interval. For instance, if a capis set at 3%, and the borrower's rate is 8%, the new rate has to be between 5% and 11%.

CAPS (PAYMENT)

A ceiling on how high the monthly mortgage payments can rise for an adjustable rate mortgage. Negative amortization can still occur because there is no cap on how much the lender can earn on interest.

CARTOGRAPHY

Map making.

CASH OUT

The money you acquire from a new loan that is more than what you owe on the last mortgage. The way this is determined is by deducting the new loan fees and the previous loan's balance from the amount of the new loan. Some property types do not qualify for cash out loans.

CASH VALUE

The current market value of an asset.

CASHIER'S CHECK (BANK CHECK)

A check drawn on a bank's account from which it was paid for in advance and is therefore guaranteed.

CAVEAT EMPTOR

A Latin phrase which translates to, "Let the buyer beware". The idea is that a buyer must be careful and selective before making a purchaseor risk being cheated.

CEILING

The interest rate cap for an adjustable rate mortgage.

CERTIFICATE OF ELIGIBILITY

Veterans Administration documentation given to veterans eligible for a Veterans Administration guaranteed loan. To get this certificate, qualified veterans can submit VA form 1880 (Certificate of Eligibility request) and VA form DD-214 (Separation Paper).

CERTIFICATE OF NO DEFENSE

A certificate presented by the mortgagor specifying the money owed on the mortgage, the date to which the interest has been paid, and the interest rate. It also states that the mortgagor has no offsets or defenses against the mortgage as of the certificate's date. Upon executing the certificate, the mortgagor cannot be prohibited or impeded by estoppel regarding the balance owed. Usually this certificated is executed when the mortgage is sold.

CERTIFICATE OF TITLE

Often presented to a homebuyer with the deed of titleand states that the title is deemed clear and good.

CHAIN

Steel tape that measures distance or a linear measure of 66 feet whichis equal to one surveyor's unit.

CHATTEL

Actual or personal property that can be moved from one place to another.

CIVIL ACTION

With the exception of criminal proceedings, refers to legalaction taken in order to protect, amend, or carry out personal rights.

CIVIL RIGHTS ASSURANCE

The promise that discrimination will not be tolerated or allowed in any activity, program, or operation on the basis of sex, religion, age, color, handicap, or national origin.

CLEAR TITLE

A title that is without any hindrances.

CLOSING STATEMENT

A financial summary compiled by a financial broker and presented to a real estate buyer from the seller.

CLOUD ONTITLE

When a title is not clear because of a judgment or claim against it.

COINSURANCE

A type of insurance whereby the property is insured for less thanits worth and the insurer agrees to cover the difference.

COLLOCATE

When more than one individual or group shares the same property.

COLLATERAL HEIR

A relative who is not the immediate heir of a deceased person, such as a cousin, sister or brother, aunt or uncle, etc.

COLLATERAL SECURITY

A performance guaranty attached to a property transfer contract.

COLOR OF TITLE

Also known as the apparent title, it is one that appears valid but does not establish an absolute or clear title.

COMMAND OPERATING BUDGET

An estimate of costs for programs and expenses determined by general operating agencies and based on the May Program Budget Guidance (PBG). The estimate is then forwarded to HQD.

COMMERCIAL CONCESSION

Army property leased to private sector companies that provide recreational facilities and services to the public at reasonable rates. See also, MINOR CONCESSION, MIXED CONCESSION, and MAJOR CONCESSION.

COMMITMENT OF FUNDS

The putting aside of monies for a specific reason after estimating the amount needed.

COMMON ELEMENT

Shared areas of condominium buildings used for safety and convenience. See CONDOMINIUM.

COMMON EXPENSE

Operating costs specified in the bylaws that are to be shared among condominium owners.

COMMUNITY PROPERTY

Shared property between a couple that was acquired during their marriage by one or both people.

COMPARABLE

An appraisal report that includes properties that are alike insize, market price, rental, profit, or other similarity to the subject property.

COMPENSABLE INTEREST

Money garnered from interest that will be paid out.

COMPLIANCE INSPECTION

The examination of civil and military outgrants to ensure that they comply with expectations and written agreements. Especially applies to outgrants that service the general public.

COMPOUND INTEREST

The sum total of accrued interest plus interest paid on the original principal.

CONCESSION

A government granted privilege given to a member of the private sector for the purpose of selling services or food on land owned by the government.

CONCURRENT LEGISLATIVE JURISDICTION

Shared federal and state legislative jurisdiction.

CONDEMNATION

Occurs under eminent domain when privately held land is taken for public use after the owner has been fairly compensated.

CONDITION SUBSEQUENT

When an event occurs to null or void an existing contract.

CONDITIONAL COMMITMENT

An agreement that is subject to certain circumstances.

CONDITIONAL SALE CONTRACT

Until the buyer meets the conditions and terms of an agreement, the seller will hold onto the property title.

CONDOMINIUM

A building with individually owned multiple units and common ownership of certain facilities or spaces.

CONSIDERATION

The promise to enter into a legal agreement for the exchange of property, money, or services.

CONSTRUCTIVE EVICTION

When a tenant is unable to enjoy or live on the premises because of actions taken by the landlord. Can also refer to a buyer or lessee who cannot take possession of a property because of issues with the title.

CONSTRUCTIVE NOTICE

The assumption that a person knows certain facts for the reason that those facts have been publicly recorded. Other wise known as legal notice.

CONTAMINATION

Hazardous levels of radioactive, biological, toxic chemicals, or unexploded conventional ordnance that are located on site.

CONTINUING RESOLUTION

Budget authority given to Federal agencies by Congressfor services or other financial matters until standard appropriation bills have been enacted, which in most cases will be in the new fiscal year.

CONTOUR LINE

Shown as an unbroken line on topographic maps, contour lines are those that connect all points of equal elevation.

CONTRACT

A written or oral agreement between parties. Examples of real estate contracts include mortgages, options, deeds, contracts of sale, loan commitments, assignments, leases, listings, and escrow agreements.

CONTRACT RENT

Monies paid a per a lease or rental agreement for the use of apremises.

CONVENTIONAL MORTGAGE

A secured loan for the purchase of real estate by aprivate investor as opposed to a government secured loan such as the Veterans Administration or FHA.

CONVEYANCE

Adeed or written agreement that transfers title of real property from one to another.

COOPERATIVE

A corporate owned building with multiple units, the owners of which hold stock with the equivalent value of their unit.

COST OF REPRODUCTION

The amount of money it would take to duplicate a property of the same age, size, and materials, etc.

COURSES AND DISTANCES

A way to locate property or describe its size using measurements of length and width with a starting and ending point.

COVENANT

A written set of rules or do's and don'ts applicable to a property with regard to appearance or other things affecting that property.

CURTESY

Though abolished now by many state statutes, curtesy refers to land a wife owns at the time of her death automatically defaulting to the husband because of common law life tenure.
DAMAGES

Punitive or compensatory money given to someone who has been hurt by someone else, though it can also refer to damage done to personal rights or property.

DEBT SERVICE

Regular payments made against the principal and interest owed ona debt.

DECLARATION OF TAKING

When a condemned property is being taken over byeminent domain, a written statement is submitted that describes the property, and the intended use for it

DEDICATION

Privately held land that is given over for public use such as an easement or right of way in exchange for a better property tax rate.

DEED

A written and official legal document that decrees a holder, known as the grantor, of real property is turning over the interest, title, or rights ofthat property to another, considered the grantee.

DEED IN LIEU OF FORECLOSURE

If there are no secondary loans on your property and you have tried and failed to sell your home, deed-in-lieu of foreclosure may be an option. In a deed-in-lieu of foreclosure, the lender takes over ownership of the property and forgives most or all of your mortgage. You will not have to make payments on your loan, but you will also not have your house.

DEED RESTRICTION

Limitations or controls placed on a property's use and is specified on the deed.

DEED OF TRUST

A legal document held by a third party giving them title to aproperty until the debt for the property has been paid in full by the property owner.

DEFAULT

When a legally bound agreement to complete a required action is not performed.

DEFERRED MAINTENANCE

Outstanding work repairs or improvements that have been postponed.

DEFICIENCY JUDGMENT

A property's market price less the debt remaining against it at the time of its foreclosure sale.

DEFICIENCY PAYMENT

Additional compensation required in a final judgment in condemnation proceedings. See also DEFICIENCY JUDGMENT.

DELINQUENCY

Defaulting on a loan by not fulfilling the financial obligations of the agreement.

DEPRECIATION

The lessening of a property's value over time.

DESCENT

When one inherits real estate from a property owner after the latter's death.

DESIGN MEMORANDUM

Before real property is purchased for any project, the intentions and goals must be put on paper.

DETERIORATION

The condition of being worn down, which is mirrored by its lessened value.

DEVISE

Real property that is inherited through someone's will, or in the event that there is no will, then the property automatically descends to the heirs.

DISCOUNT

The amount that is taken away from that which is owed. As anexample, when paying off a mortgage before the end of the term, the amount originally owed is often discounted. In the case of paying points to Veterans Administration or FHA lending institutions, a discount is the amount paid to acquire the mortgage.

DISCOUNT POINTS (POINTS)

At the time of acquiring a mortgage loan, points are paid to the lender with each point being one percent of the full loan. In most cases, lower interest rates gain be gained with more points paid. The buyer pays the points in cash at the time of closing.

DISPOSAL

The selling of Government real and personal property.

DISPOSSESS

To take away the use, possession, or ownership of real property from someone.

DOWER

The amount of a deceased husband's real estate that is lawfully allowed to be given to the widow for as long as she lives.

DOWN PAYMENT

To acquire a mortgage loan, the down payment is the amount of money in cash you need to pay up front. If you pay a minimum of 20% of the purchase price, many lenders (with the exception of Veterans Administration and FHA) will not require private mortgage insurance.

DUE-ON-SALE CLAUSE

When a property is sold, the lender can seek full payment of the loan balance if this proviso is included in the loan terms.

DURESS

Forcing a person to do something or not do something.
EARNEST MONEY

The money paid by the buyer at the time of signing the purchase agreement as evidence of good faith that they will complete the purchase.

EASEMENT

Usage or right of way granted to a property owner to use or have access to another's property.

EASEMENT APPURTENANT

An accompanying or attached easement of lesser importance than a primary easement. Also known as "PERTAINING EASEMENT".

ECOA

See Equal Credit Opportunity Act.

ECONOMIC LIFE

The length of time that a property will produce viable income.

ECONOMIC OBSOLESCENCE

When a property loses its economic viability for reasons of land use, a change in property laws, or a reduction in market value.

EFFECTIVE AGE

A structure's current usefulness and condition as counted in years.

EFFECTIVE RATE

The estimated time a buyer will have a mortgage loan (as opposed to the mortgage loan's full term), combined with fees, possible rate changes, miscellaneous costs as represented by one rate.

EJECTMENT

Legally taking possession of property and seeking damages from those who had no right to that property.

ELEVATION

Can refer to a rendering of a building front or side or is the height above a datum line.

EMBLEMENTS

The crops that a tenant has rights to access and harvest even after the termination of a rental or lease agreement because the crops are considered the personal property of the tenant.

EMINENT DOMAIN

A federal and state government's right to take possession of any personal property for use of the public in exchange for just compensation.

ENCROACHMENT

To unlawfully, and without permission, build, intrude, or improve on another's property.

ENCUMBRANCE

Anything that may lessen a property's value or physical condition including liens, judgments, mortgages, easements, restrictions or encroachments.

ENDANGERED SPECIES

As determined and listed by the United States Departmentof the Interior, animals or plants in danger of extinction.

ENGINEERING FEASIBILITY STUDY

A consideration of whether the planned construction of a facility or other project in a specific area is financially, structurally, and ecologically sound.

ENVIRONMENTAL ASSESSMENT

A determination, made in writing, of the impact thata proposed project will have on the environment.

ENVIRONMENTAL IMPACT ASSESSMENT

The determination, based on research andprior investigation, of whether a proposed project will be excessively detrimental to the environment.

ENVIRONMENTAL IMPACT STATEMENT

Required by the National Environmental Policy Act of 1969 (NEPA), it is a written report specifying all known information about how to minimize any negative impact on the environment a planned project may have.

EQUAL CREDIT OPPORTUNITY ACT (ECOA)

As required by Federal law, regardless of age, sex, national origin, marital status, receipt of income from public assistance programs, color, religion, or race, credit must be made equally available to all applicants.

EQUITY

The value or interest of real property that is free and clear of debt.

EQUITY OF REDEMPTION

In Title Theory states, before a foreclosure sale amortgagor has the right to retake control and possession of forfeited property by paying off the complete debt, including interest and other costs that resulted from defaulting on the mortgage.

EROSION

A process of land disintegration as a result of wind, water, or other natural causes.

ESCALATION CLAUSE

As a result of a specific action, the rent can be lawfully increased.

ESCHEAT

When a person dies and has no heirs who can reasonably hold the deceased's property should they inherit it, or the current property owner is incapable of holding it.

ESCROW

When an escrow agent or third party conditionally holds a property deed until such time as an event occurs or requirement is fulfilled.

ESCROW ACCOUNT

Monthly mortgage payments from the borrower to the lender to cover such costs as insurance and taxes are paid to this account. Also referred to as an Impound Account.

ESCROW AGENT

The individual whose fiduciary responsibility it is to the seller/lender and buyer/borrower to make sure that the loan/sale/purchase is handled according to agreement.

ESCROW AGREEMENT

The understanding made in writing that the escrow agent will hold property or instruments received from the obligor or promisor until certain conditions are met, and then deliver said property or instruments to the oblige or promise.

ESTATE

With regard to real estate, estate means the amount, meaning, and amount of investment one has in real property.

ESTATE AT SUFFERANCE

When a tenant remains in residence beyond the end of the lease or rental agreement, and the landlord has the right to evict the tenant for trespassing or renew the original agreement with the same terms. Also known as Tenancy at Sufferance.

ESTATE FOR LIFE

Real estate held by the tenant for as long as they are still alive and the rights to which may extend to the lifetime of another designated person or persons.

ESTATE FOR YEARS

Also known as a tenancy for years, it refers to having land interest for a set period of time.

ESTATE FROM PERIOD TO PERIOD

Renting property or land at a weekly, monthly, or yearly rate, with a contract that does not extend beyond that time.

ESTATE IN REVERSION

An owner's right to re-occupy property after the time the owner granted to someone else has expired.

ESTOPPEL

A legal doctrine that keeps someone from claiming certain rights if those right sare different from what they earlier claimed to have.

ESTOVERS

Wood that a renter is allowed to remove from their landlord's property for purposes of burning as a means of furnishing heat or for other purposes.

ET AL.

From the Latin meaning "and others", and is an abbreviation of the Latin phrase, "et alii".

ET UX.

From the Latin meaning "and wife", and is an abbreviation of the Latin phrase, "et uxor".

ET VIR

From the Latin meaning "and husband", and is an abbreviation of the Latin phrase, "et uxor".

EVICTION

To exercise the right given by legal judgment to take away a person's land or property.

EXCESS

Unnecessary or extra Federal agency-controlled real property.

EXCESSING

The procedure for concluding that Army real estate is unnecessary and forwarding that information to the agency in charge of disposing of it.

EXCHANGE

Trading instead of purchasing real interest for another real interest of the same value.

EXCLUSIVE LEGISLATIVE JURISDICTION

When the Federal Government holds jurisdiction over state legal authority in a specific area, but cannot rule outside that area.

EXECUTOR

Someone who is responsible for settling a deceased person's estate because they were appointed by a court or named in a will to perform this service.

EXPERT WITNESS

Someone with experience or know-how in an area who is called upon to express their opinion in a court case.
FAIR MARKET VALUE

Legal version of the term MARKET VALUE.

FANNIE MAE

A popular way to name the Federal National Mortgage Association.

FDIC

See Federal Deposit Insurance Corporation.

FEDERAL DEPOSIT INSURANCE CORPORATION (FDIC)

Congressionally created independent deposit insurance agency whose purpose it is to keep the public confident in the country's banking system.

FEDERAL HOME LOAN MORTGAGE CORPORATION (FHLMC, or Freddie Mac)

A Federal agency that purchases loans underwritten under its rules and directions and that which are the norm for non-commercial conventional lending.

FEDERAL HOUSING ADMINISTRATION (FHA)

As part of the Housing and Urban Development (HUD) Federal agency, it determines the industry standards for underwriting mortgage loans by private lenders as well as insures them.

FEDERAL NATIONAL MORTGAGE ASSOCIATION (FNMA, or Fannie Mae)

Federal agency that sets the industry standard for conventional residential lending and purchases loans that are underwritten under its rules.

FEE

Real estate that can be inherited.

FEE SIMPLE

The greatest number of ownership rights allowable by law. Is also known as "the fee".

FEE TAIL

No longer valid in most states, the fee tail is owned property or interest in it that has to pass on to the owner's heirs.

FHA

See Federal Housing Administration.

FHA LOANS

Loans insured by the United States Department of Housing and Urban Development that are adjustable rate or fixed rate. These loans are associated with lower down payments than conventional loans and have different requirements that applicants must fulfill.

FHLMC

See Federal Home Loan Mortgage Corporation.

FIRST MORTGAGE

The primary mortgage on a property with priority over anyother mortgages on that property.

FIXTURE

Property that becomes permanently attached to real property.

FORECLOSURE

Process whereby when a mortgage goes into default, the property is then sold to cover the debt.

FOREIGN EXCESS REAL ESTATE

With the exception of installed equipment or trees, it is unneeded real property in areas outside of the United States, Guam, American Samoa, the Trust Territory of Pacific Islands, Virgin Islands, or Puerto Rico.

FORFEIT

Losing the right to property or money because of inaction or wrong actions.

FRAUD

Intentionally lying to someone else resulting in legal harm to that person.

FREEHOLD

An estate that is held for life or in fee.

FRONT FOOT

Twelve inches along a property's street frontage.

FUNCTIONAL OBSOLESCENCE

When a building or improvement loses value because of its worn condition, poor design, outdated fixtures, or other reasons.
GENERAL LIEN

All of a debtor's property against which a lien has been placed.

GENERAL WARRANTY

A deed covenant in which the grantor promises to protect the grantee from the world.

GOOD FAITH ESTIMATE

After receiving a loan application, the lender has three days to provide this written estimate of the borrower's settlement costs expected at the closing.

GRACE PERIOD

The amount of time a borrower has to make their loan payment after it is due without having to pay late charges.

GRADUATED LEASE

A lease that takes into consideration the changing rentalrates.

GRADUATED RENTAL SYSTEM

When a person's rental rate changes based on how much money they are making less their expenses. That rate is offset against the nonrefundable Fixed Minimum Rental (FMR).

GRANT

The bargaining, selling, or granting of real property to another person, represented by a deed

GRANTEE

The person or buyer who receives a grant or real estate.

GRANTOR

The person or seller who gives a grant or real estate.

GROSS INCOME

The estimated yearly income of a person or company for property management services.

GROSS RENT MULTIPLIER

For single family residential property, it is the ratio of monthly rental income to sales price.

GROUND LEASE

An agreement to use land for a set amount of time and as part of the arrangement, the tenant may agree to improve the property.

GUIDE ACQUISITION LINE

Map marking used to show proposed areas of land to be purchased for a project.
HABENDUM CLAUSE

A deed's "to have and to hold" clause that specifies the amount and terms of the estate granted.

HAZARD INSURANCE

An insurance premium for homeowners in the event that their property is destroyed or damaged due to fire or other natural disasters.

HAZARDOUS MATERIALS

See CONTAMINATION.

HECTARE

A metric measurement equal to 2.471 acres, or 10,000 square meters.

HEREDITAMENTS

Any property that can be inherited, whether it be corporeal, and incorporeal, real or personal.

HIGH WATERLINE

During an average tide, it is the mark of the highest level of water.

HOLDING AGENCY

The Federal agency which is responsible for property.

HOLDOVER TENANT

One who has stayed on the premises of a leased property after the lease has expired.

HOME STEAD

Building used for personal living space. In areas where homestead protection is honored, the owner can file a homestead declaration with the county recorder to gain exemption from creditors up to a certain amount.

HOUSING AND URBAN DEVELOPMENT

See HUD.

HUD (HOUSING AND URBAN DEVELOPMENT)

Federal agency that oversees the Federal Housing Administration and whose responsibility it is to execute community development programs and federal housing.

HUD-1 UNIFORM SETTLEMENT STATEMENT

Details closing costs when refinancing a loan or buying a house.
IMPROVEMENTS

Greater than repairs or replacement of items, improvements are land additions that cost greater sums of money such as buildings, and cannot be easily removed.

IMPOUND ACCOUNT

Monthly mortgage payments from the borrower to the lender to cover such costs as insurance and taxes are paid to this account. Also referred to as an Impound Account. Also referred to as an Escrow Account.

INCOME PROPERTY

Property whose purpose it is to generate money, and can be residential, commercial, or industrial.

INDEMNIFY

To compensate someone for a loss that they have experienced, or to protect them from potential damage or loss.

INITIAL RATE

During the first part of an ARM loan, it is the rate charged.

INDUSTRIAL INSTALLATION

A Department of the Army building that may or may not be in use for the purpose of building munitions, components, military supplies, or weapons.

INGRANT

Property that the Army or Air Force has use of by license, permit, or lease.

IN LEASING

The leasing of land or improvements by government agencies for civil works or military use.

INSTALLATION

Improvements or land under the control and direction of the Army.

INSTALLED BUILDING EQUIPMENT

That which is permanently a part of the building or improvement in order to make it functional, such as a dock or certain machinery.

INSTALLMENT CONTRACT

Also known as a Land Contract, it is the acquisition of real estate under an installment agreement in which the buyer does not receive the deed until the agreed upon payments have been made, and if they are not made then the property goes into default.

INSTRUMENT

A legal document made in writing that details the rights of all involved.

INTEREST

The amount of money that a borrower pays and is determined as apercentage of the amount owed.

INTEREST RATE

The amount of money charged for funds borrowed.

INTEREST RATE CAP

The maximum amount of interest that can be charged on an ARM loan in an adjustment interval and/or the loan's term.

INTERNAL CONTROL

Practices and deterrents on the part of a Federal agency to prevent waste, mismanagement of resources, abuse, and fraud.

INTESTATE

A deceased person who left no will, and in which case the heirs will automatically inherit their estate.

INVOLUNTARY LIEN

Forced assessments, taxes, or payments against a property owner.
JOINT LIABILITY

Shared liability in which all parties are equally responsible for repayment of the debt.

JOINT AND SEVERAL

When more than one person is bound together by obligation and responsibility and can be held accountable individually or more than one at a time.

JOINT TENANCY

When more than one person owns the same property and hold sequal rights and responsibilities.

JUDGMENT

The legally recognized decision by a court of law regarding those involved within a suit or action.

JUMBO LOAN

A mortgage for an amount exceeding $240,000, which is the maximum amount allowable by the Federal Home Loan Mortgage Corporation and the Federal National Mortgage Association.

JUNIOR LIEN

After a preceding lien has been placed against a property, the following lien is a junior lien.

JUNIOR MORTGAGE

A mortgage of secondary priority to a prior mortgage or lien.

JURISDICTION

Legal authority held over a specific area with the power to passlaws governing that area.

JUST COMPENSATION

When property is condemned, just compensation is the fairmarket value paid for that real estate.
LAND MANAGEMENT

Government programs and policies designed to protect and improve land for public use, including outdoor recreation, wildlife and forest management.

LAND SURVEYING

The classification and documentation of land by engineers or surveyors.

LANDLORD

One who owns property rented to tenants.

LATE CHARGE

Extra monies paid by a borrower when their scheduled payment is overdue.

LEASE

An agreement whereby a property owner allows a tenant to use and have rights to a building or land for an agreed upon time period in exchange for money.

LEASEHOLD

Property held by an individual or business as specified in their lease.

LENDER

The lending institution providing the loan.

LEGAL DESCRIPTION

The official identification of land that is recognized by legal authorities.

LEGISLATIVE JURISDICTION

Partial, concurrent, or exclusive jurisdiction and authority over a specific area.

LESSEE

One who is leasing or renting property from another.

LESSER INTERESTS

Land interests that are less than fees.

LESSOR

A landlord, or one who rents their property out to another.

LIABILITY

Something that designates owing money or services.

LIBOR (London Interbank Offered Rate)

The amount of short-term loan interest charged by foreign banks to one another.

LICENSE

Permission to access or use someone else's property or land.

LIEN

Debt charged against one's property in lieu of money owed by the property owner to the debtor.

LINK

A measurement used by surveyors that equals 7.92 inches for one link, or 66.6 feet for 100 links or one chain.

LIS PENDENS

When a pending law action may affect a land's title, a public notice is filed against that land.

LITTORAL RIGHTS

A landowner's right to enjoy the water contiguous to their property.

LOAN APPLICATION

The information provided by an applicant when applying for aloan.

LOAN APPLICATION FEE

The lender's charge for handling a loan application and may include fees involved for a credit report, lock-in fee, or a property appraisal.

LOAN ORIGINATION FEE

Lender's charge to cover their costs when handling a loan

LOAN-TO-VALUE RATIO (LTV)

The loan's total as compared to the property's sales price or appraised value, whichever is less.

LOCK OR LOCK-IN

The limited time interest rate guaranteed by a lender.

LOCUS

A specific piece of land.
MAJOR CONCESSION

A business on project land that generates more than $150,000. See also, MIXED CONCESSION, MINOR CONCESSION, COMMERCIAL CONCESSION.

MARGIN

Used to calculate the new interest rate during the adjustment interval of an ARM loan, the margin is the percentage added to the financial index.

MARKET PRICE

The amount of money paid for a property regardless of circumstances.

MARKET VALUE

The amount of money a seller would accept and a buyer would pay for a property.

MARKETABLE OR MERCHANTABLE TITLE

A free and clear title that can be sold with little risk of litigation.

MEAN SEA LEVEL

The planet's average sea level, used as a measurement base for altitude. For real estate purposes has been replaced with the National GeodeticVertical Datum (NGVD).

MECHANICS LIEN

A debt or charge against a property for services or materials that have not been paid.

MEETING OF MINDS

When two people enter into a legal agreement or contract together and agree to equally fulfill the specified obligations.

METES AND BOUNDS

Identifying property by measuring distances using landmarks and coming full circle.

MINERAL RIGHTS

The legal authority to withdraw minerals from a property, but not the authority to use the land's surface in doing so.

MINOR CONCESSION

A business on project land that generates less than $150,000. See also MIXED CONCESSION, COMMERCIAL CONCESSION, MAJOR CONCESSION.

MIXED CONCESSION

A business on private and project land. See also MAJOR CONCESSION, MINOR CONCESSION, COMMERCIAL CONCESSION.

MONUMENT

That which is used for reference when determining property lines, whether it be artificial or natural.

MONUMENTS DESCRIPTION

Describing property bounds with references to artificial or natural markers.

MORTGAGE

An agreement that funds will be provided for the purchase of property and that those funds shall be repaid to the lender.

MORTGAGE BROKER

A company that loans out money for mortgages and then often sells those loans to lenders for profit.

MORTGAGEE

The lender who offers the mortgage to a borrower.

MORTGAGOR

The borrower who accepts the mortgage from a lender.

MULTIPLE USE

When environmental concerns are balanced with human usage.
NATURAL RESOURCES

That which is not manufactured by humans such as forest, rivers, lakes, grasslands and the animal life therein, air, and soil.

NAVIGATION SERVITUDE

When the general public has access rights to pass through.

NEGATIVE AMORTIZATION

When payments on a loan are not enough to lessen the loan's balance.

NEGOTIABLE

A debt or certificate that can be sold or purchased.

NET INCOME

Gross income less expenses or other charges.

NET LEASE

The renter or lessee pays rent as well as maintenance fees, insurance, and property taxes.

NON-ASSUMPTION CLAUSE

When a mortgage cannot be assumed by another without the lender's approval.

NONEXCESS PROPERTY

Land that is necessary for Army purposes but is sold and the money used toward replacement land.

NONUSABLE CONDITION

A building that is not safe or desirable to use due to its condition.

NOTE

A written agreement to repay a loan.

NOTICE OF DEFAULT

When a borrower is notified that they have not fulfilled their financial obligation and that legal action may be brought against them.

NOTICE TO QUIT

When a landlord informs a tenant in writing that they must leave the premises immediately in the case of an at will lease, or else when the current contract expires
OBLIGATION

Reserving the amount of money expected to be used to cover certain estimated costs.

OBLIGOR

One who must fulfill the expectations of another.

OBSOLESCENCE

When economic, social, or structural changes are no longer current and as a result devalues a property.

OFFER

When one agrees to act a certain way as long as the other also agrees to certain standards.

OFFSET STATEMENT

When a lien goes into effect as a result of a property or lien owner's statement against a property.

OPEN-END MORTGAGE

When a mortgage does not need to be rewritten if a mortgagor borrows funds after the loan is reduced.

OPTION

The right to purchase or sell property for an agreed upon value.

ORDER OF POSSESSION

Allows the government to use and access land as a result of a court order.

ORIGINATION FEE

Lender's charge for loan processing costs.

OUTGRANT

When the government allows the use of their property through a permit, license, lease, or easement.

OUTLEASING

When property owned but not needed by the Army is leased out.

OUTSTANDING RIGHTS

Property liens, obligations, or encumbrances that gives the government the right to seize.

OVER-IMPROVEMENT

When improvements to land are inappropriate or overdone and result in a reduction of the property's market value, as well as that of the surrounding properties.

OWNER IN EQUITY

When the owner must fix or replace damaged property improvements.
PARTIAL LEGISLATIVE JURISDICTION

The federal government has jurisdiction rights over state property, though the state retains authority greater than the right to serve criminal or civil processes.

PARTIAL TAKING

Under eminent domain, some of a property may be taken for use of the public as long as the property owner is fairly compensated.

PARTITION

When two or more people jointly own property but wish to divide their common interest.

PATENT

When a person receives public land from the federal government.

PAYMENT CAP

The maximum monthly charge for an adjustable-rate mortgage.

PERCENTAGE LEASE

When the net or gross income from a business determines the monthly rental or lease payment amount.

PERCOLATION

The water that flows beneath the land's surface.

PER DIEM INTEREST

Daily calculated interest.

PERMANENT CONSTRUCTION

A structure that is capable and worthy of its intended use and will require little maintenance for a minimum of 25 years.

PERMIT

A non-permanent right given to another federal agency to use real property for a specific reason.

PERSONAL PROPERTY

Non-permanent fixtures or items that are mobile and of apersonal nature, and does not include real property. See also REAL PROPERTY, PROPERTY.

PERSONALTY

Chattel, mobile or personal property. See also PERSONAL PROPERTY.

PHOTOGRAMMETRY

With the aid of stereographic plotters and aerial photographs, mapping and surveying are performed.

PITI (Principal, Interest, Taxes and Insurance)

The parts of a monthly mortgage payment.

PLAT

A map that illustrates the boundaries and location of each property.

PLOT

A land parcel.

POINT

A charge that is equal to one percent of the loan.

POINT OF COMMENCEMENT

A mark from which the beginning occurs.

POLICE POWER

Zoning or other property rights can be exercised without compensation but only within limits.

PORTABLE BUILDING

A mobile or ambulatory building that are not considered real property.

POSSESSORY INTEREST

People or companies that have outgrant interests in property that the federal government has removed from public record.

POWER OF ATTORNEY

A legal document specifying that a person is to act on behalf of another as their attorney or agent.

PREPAYMENT PENALTY

Fee for paying off a deed of trust note or mortgage before the end of the term.

PRE-APPROVAL

Determining the amount of money a prospective loan applicant will qualify for before they actually apply for the loan.

PREPAID EXPENSES

Expenses paid ahead of time and included at closing such as assessments, insurance, and taxes.

PREPAID INTEREST

Interest paid before it is expected to be paid.

PREPAYMENT

Paying all or some of the principal before it is due.

PRESCRIPTION

Obtaining an easement, right of way, or other property right by occupying it for the lawful time required to prevent recovery action.

PRICE

The amount of money required to acquire such things as services or goods.

PRINCIPAL

The remaining balance of a loan.

PRIVATE ORGANIZATION

That which is an organization or group not a part of the government.

PROGRAM ANALYSIS AND RESOURCE REVIEW (PARR)

Do