Homes For Sale By Owner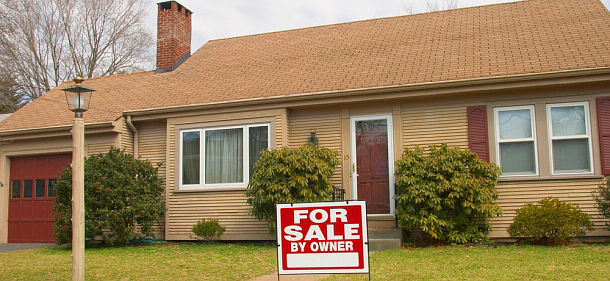 Although most people opt to sell their home through a real estate agent, there are a growing number of sellers who realize the benefits associated with doing so on their own.
Generally speaking, the primary advantage of selling a home by owner is the ability to take more profits from the sale. When you hire a real estate agent, you are required to pay him or her a commission on the sale. On average, this equals three percent to the selling agent and three percent to the buyer's agent (if one exists).
Where to Find Homes for Sale by Owner
It may be easier to find cheap homes for sale by agents, but this doesn't mean it is impossible to find those that are being sold by owner. These properties, commonly known as FSBO homes, can be marketed in a variety of ways including but not limited to:
Online via dedicated for sale by owner websites.
Online via services.
Local newspapers.
For sale sign in the owner's yard.
Note: more and more people selling by owner are beginning to realize the benefits of working with a flat fee MLS service. With this, the person selling is able to get their property listed on the local MLS without hiring an agent. For this reason, potential buyers are able to more easily locate these homes.
Can I Find Good Deals on FSBO Homes?
No matter if you have plans to buy a home to live in or are interested in purchasing an investment property, you should be open to considering all options, including buying a foreclosure for sale by owner.
Since a realtor is not involved in the buying and selling process, there is often times less negotiating with these properties.
The good thing is this: the lack of realtor fees typically means the owner has more room to negotiate or may even price the home lower. As a buyer, this puts you in position to purchase the property at a price below market value.
Tip: just because the seller has not hired a realtor doesn't mean you have to follow suit. There is nothing wrong with bringing your own realtor to the negotiating table, as long as the seller is willing to pay a buyer's agent commission.
What You Need to Know About For Sale by Owner Homes
Many owners are opting to sell by owner. If you are in the market for a property, you need to realize that you may run into one of these sellers at some point. The more you know about for sale by owner homes, including the steps for buying and selling, the better off you are going to be.
Here are several details to consider:
Not much changes for the buyer, except the fact that they will be dealing directly with the seller when negotiating.
Sellers opt for selling by owner as a means of collecting a higher profit.
When buying an FSBO home, you must still pay close attention to all paperwork and follow through with the appropriate closing process.
FSBO Homes for Investors
Real estate investors are beginning to realize the benefits associated with considering homes being sold by owner.
If you are looking for an investment property, the ability to purchase an FSBO home should be of great interest. The seller does not have to pay any agent commission, meaning they have more room to negotiate. Subsequently, your chance of buying the property at or below market value is much higher.
Now that you know more about buying or selling a home by owner, you can move forward with the process in a more confident manner.