Do It Yourself (DIY) Home Projects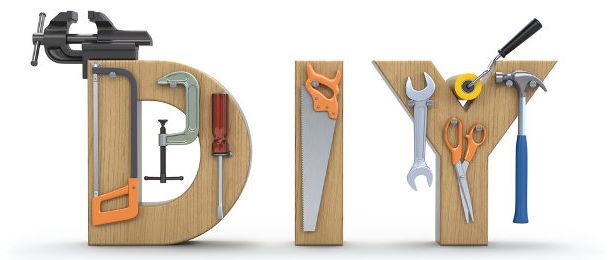 No matter if you are staying in the home in which you currently live or looking to move, there is a good chance you will begin to consider the many DIY home projects that make sense for your property.
What are DIY Projects?
DIY is an acronym for "do it yourself". A DIY project is one you complete on your own, without contracting the job to an outside professional. With the popularity of DIY projects on the rise, there is more information available than ever before.
Advantages of DIY over Hiring a Contractor
If you are unsure of whether or not a DIY home project is right for you, the first thing you have to consider is the advantages when compared to hiring a contractor. Here are several to become familiar with:
Save money. For most people, this is the primary benefit of a DIY project. With so many cheap ideas, you can transform the overall look and feel of your home without breaking the bank.
Work on your own time. When you hire a contractor, you are subject to his availability. This could put you in a bad spot, especially if you have children or other family members living in your home.
Don't have to worry about being scammed. Let's face it: there are many bad contractors out there, many of whom are looking to take your money and run. With a DIY project, you never have to concern yourself with this.
Note: Real estate investing can be even more profitable with the help of diy home projects. If you're interested in buying foreclosed homes to resell, for example, you can save money by renovating the house yourself. Have you ever thought about that?
Types of DIY Home Projects
The number of Do it Yourself home projects is nearly unlimited. If you can dream it up, there is a good chance you can get started on the job sooner rather than later. While there are too many renovation ideas to list here, below are three of the most common:
Kitchen remodel. This is clearly one of the most popular DIY projects. Not only is it one you can complete on your own, but it will go a long way in adding value to your home.
DIY home security. Would you feel safer in your home if you had a security system? This is a do it yourself job for many. There are kits you can purchase and install without much knowledge.
Bathroom remodel. From a new vanity to a new shower among other changes, this project is extremely common.
Where do I Start?
At this point, you are likely convinced that a DIY home project makes good sense. Of course, this doesn't mean you are ready to start swinging your hammer just yet. Here are three steps to take before getting started:
Set a budget. If you don't do this, you may find yourself spending more money than you wanted to.
Have a plan. It is one thing to say you are going to complete a DIY project. It is another thing entirely to make this come true. You need a plan that will guide you from start to finish.
Search online for help. We have plenty of information related to DIY projects for home, all in simple terms that are easy to follow.
Tip: don't be shy about asking friends and/or family for help. After all, two sets of hands (or more) are always better than one. Even if you don't have experience with DIY real estate projects, this is no reason to hold yourself back. You now have the knowledge necessary to get started!