DIY Home Exterior Renovation Tips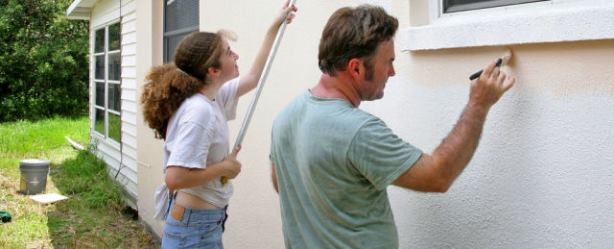 When it comes to do it yourself projects, many homeowners and real estate investors spend most their time and money on the interior of the property. It is important to focus just as much on exterior renovation, ensuring that the home has enough "curb appeal" to attract an audience. Exterior DIY renovation projects can be affordable enough to fit any budget and meaningful enough to increase the value of the property.
Three DIY Projects to Consider
There is no denying the fact that you can contract a professional to assist with exterior renovation projects. From a new cement driveway to new siding, there are jobs that are best left to a professional.
Of course, there are many home projects you can complete on your own as a means of reaching the desired result while saving money:
1. Exterior paint. A fresh coat of paint can be the difference between scaring off a potential buyer and inviting them into the home. Best yet, you don't need a lot of equipment to complete the job. In addition to painting supplies, you will likely require a ladder and/or scaffolding.
2. Landscaping. Have you given any thought to the landscaping that surrounds the home? Many people are either dealing with too much landscaping that has overrun the property or so little that the yard looks bare. There is no need to call in a professional landscaping company when you can do the work on your own. Some basic tools and a well laid out plan will put you on the path to upgrading the landscaping.
3. Deck repair. There is nothing worse than a deck that is worn down and potentially dangerous. This is one of the quickest ways to scare off buyers.
If the structure of the deck is sound, some paint or stain is all you need. On the other side of things, if there is anything unsafe about the structure, you should carefully approach this problem and bring it back to good working condition.
Renovating Windows and Doors
A property with new windows and doors is one that is sure to attract more attention. There are two reasons for this:
Improvement to the overall look of the home.
New windows and doors are more energy efficient.
When upgrading windows and doors, focus on the following details:
Energy efficiency rating.
Type of glass.
Type of frame.
Style (does it match the home?).
Color.
Roof Renovation
Nobody wants to move into a house with a roof that needs repaired or replaced in the near future. For this reason, you should consider renovating or replacing the roof before putting the property on the market. Even though you may be tempted to call a professional, if you have the ability (and courage) to climb on the roof, you should be able to get started on your own.
Garden Decorations
Decorations are not just for the inside of a home. A garden can go a long way in improving the functionality of any landscape, showing potential buyers that there is plenty of space outdoors for all their needs.
Enhancing and maintaining a home's curb appeal can improve the value of a home and increase the number of interested buyers.
With the right strategy and safety guidelines in place, most exterior home improvement projects are within reach.