Click on the map to begin your search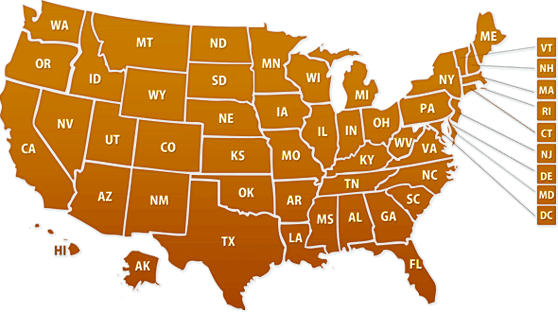 Bankruptcy Definition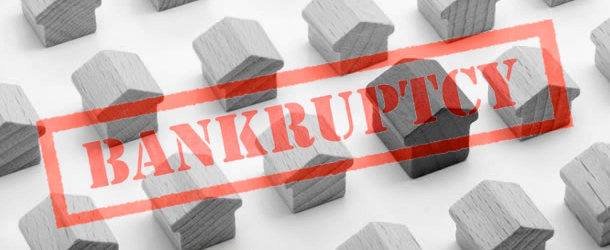 What is bankruptcy? In short, bankruptcy occurs when an individual (or company) is unable to pay debts owed to creditors. The legal proceedings that follow are to settle claims against the debtor, which may or may not involve payment plans and liquidation of assets. Most bankruptcies fall under the Bankruptcy Code Chapter 7, Chapter 11, and Chapter 13.
The Bankruptcy Process
Below are the basic steps to the bankruptcy process:
Pre-Bankruptcy Counseling: More often than not credit counseling is required for those looking to file bankruptcy; therefore, this is often the first step in the process.
Filing Bankruptcy: After obtaining counseling, individuals (or companies) then file bankruptcy. For individuals, most people either file Chapter 7 or Chapter 11 (which will be explained in more detail later). A petition for bankruptcy from an attorney is highly recommended.
Trustee Appointed: Typically a judge will then appoint a trustee to oversee the case.
Automatic Stay: After filing bankruptcy, an automatic stay is put in place to protect the individual who filed bankruptcy from creditors.
Meet with Creditors: Approximately a month or two after filing for bankruptcy, you (and your lawyer) will have a meeting with the creditors and will examine all pertinent records and documents. All items that are not exempt are often given to the creditor at this time to help reduce your debt.
Throughout this process, the person filing bankruptcy tends to lose his or her home if the property has equity. On the other hand, if there is no equity in the property, then the homeowner can more than likely keep the property as long as they remain up-to-date on mortgage loan payments. However, if they do not remain up-to-date on payments then the property can still be foreclosed upon by the lender.
On the other hand, the property may be exempt and therefore the homeowner may be able to keep the property even if it has equity. At the end of the day, it primarily depends upon bankruptcy laws, which vary by state. Furthermore, the type of bankruptcy may also play a key part in whether or not the home is acquired by creditors.
When properties are lost in the bankruptcy process, potential homebuyers and investors can often purchase these properties below market value. As a result, bankruptcy homes are often considered by those looking for discount properties.
How to Buy a Bankrupt House For Sale
If you are a potential home buyer or investors looking for cheap properties, then you may wish to consider looking for bankrupt houses for sale. These properties can often be purchased well below market value (even when you take into consideration trustee or negotiation fees), making them great investment opportunities.
How, exactly, do you buy a home that was lost due to bankruptcy?
You can often find bankruptcy homes for sale via foreclosure listing services websites. These websites have up-to-date information on the property and often include valuable information such as the seller, property details, and photographs. Therefore, if you are looking for a bankruptcy home for sale, start your search with real estate listing services websites and then follow the same steps as if you are purchasing any other property or foreclosure.
Options for those Facing Bankruptcy
Before filing bankruptcy, it is highly recommended that you meet with attorneys to learn more about your options and the US bankruptcy code. An attorney can help you better understand the bankruptcy process and what bankruptcy options are available to you and your circumstances as well as other options (besides bankruptcy). Attorneys can also help you to better understand whether your property can be saved through the bankruptcy process and a wide variety of other pertinent information, such as if your student loans can be included and how to set up a repayment plan that works for you.
The Discharge in Bankruptcy
The discharge in bankruptcy occurs approximately three to four months after filing. A discharged bankruptcy simply means that the individual is no longer responsible - legally - for the discharged debt.
Chapter 7. Liquidation Under the Bankruptcy Code
Chapter 7 bankruptcy is also known as liquidation bankruptcy and is what most people are referring to when they say they are filing personal bankruptcy. In this type of bankruptcy, the trustee sells off unprotected (nonexempt) assets to repay the creditors. Debt that is unable to be paid off by the assets tends to be discharged.
Chapter 11. Reorganization Under the Bankruptcy Code
Chapter 11 bankruptcy is more complex than Chapter 7 or Chapter 13. More often than not, a business instead of an individual will file Chapter 11. In this type of bankruptcy, the debtor will attempt to work out a reorganization or debt in an effort to keep all assets.
Chapter 13. Individual Debt Adjustment
Chapter 13 bankruptcy is also commonly used by individuals and unlike Chapter 7 does not require liquidation. In Chapter 13 bankruptcy the individual more than often can keep all assets and a deal is created that must meet bankruptcy laws. What in someone's estate may be included in the restructuring depends on state law; often homes are included.
Learn More about Bankruptcy
The information above is merely a brief introduction into bankruptcy; therefore, make sure you visit the U.S. Bankruptcy Court website to learn more about bankruptcy rules, obtain necessary forms, and to find the answers to all of your bankruptcy-related questions.